Styling t-shirts for different occasions can be a fun and versatile way to create various looks. Whether you're going for a casual outing, a formal event, or something in between, here are some tips on how to style t-shirts for different occasions:Casual Outings:Pair your t-shirt (https://tlcoolshop.co.uk/collections/t-shirt) with jeans or shorts for a classic casual look. Opt for fitted or straight-leg jeans, and choose shorts that suit the weather and occasion.Add sneakers or sandals for a laid-back vibe. White sneakers are a versatile choice that can go with almost any casual outfit.Consider layering with a lightweight jacket or a flannel shirt...
---
Organic cotton t-shirts continue to be a sustainable and beneficial choice for both individuals and the environment in 2023. Here are some reasons why: Reduced chemical exposure: Organic cotton is grown without the use of synthetic pesticides, herbicides, and fertilizers. This means that the cotton fibers used to make organic t-shirts are free from harmful chemicals that can be absorbed by your skin. By wearing organic cotton t-shirts, you minimize your exposure to potential allergens and toxins, promoting healthier skin. Environmental conservation: Organic cotton farming practices prioritize the use of natural methods to maintain soil fertility and protect ecosystems. It...
---
Organic T-shirts are clothing items made from organic materials, typically cotton, that have been grown without the use of synthetic fertilizers, pesticides, or genetically modified organisms (GMOs). They are produced using methods that prioritize environmental sustainability and the well-being of farmers and workers. Here are some key features and benefits of organic T-shirts: Organic materials: The cotton used in organic T-shirts is sourced from crops grown using organic farming methods. This means that no harmful chemicals or synthetic pesticides were used during cultivation, reducing the environmental impact. Chemical-free production: Organic T-shirts are processed and manufactured without the use of harsh...
---
What we know. :-) T-shirts are an integral part of almost everyone's wardrobe today. They are universal, and comfortable, and come in countless designs and styles. But have you ever wondered about the origins of this popular garment? We will delve into the evolution of T-shirts, tracing their journey from humble undergarments to fashion staples.The Early Days: From Undergarments to Workwear.T-shirts can trace their roots back to the 19th century. Initially, they were designed as undergarments worn beneath button-down shirts. The one-piece design, with short sleeves and a round neck, provided a layer of protection between the skin and the...
---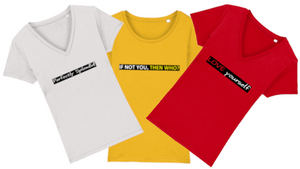 If you are looking for some fresh and stylish for your wardrobe this season you are in the right place. Do you know that, a t-shirt, or tee shirt, is a style of fabric shirt named after the T shape of its body and sleeves? Traditionally, it has short sleeves and a round neckline, known as a crew neck, lacking a collar. T-shirts are generally made of stretchy and lightweight fabric and skin-friendly. The t-shirt evolved from undergarments used in the 19th century and, in the mid-20th century, transitioned from undergarment to general-use casual clothing. When it comes to clothes,...